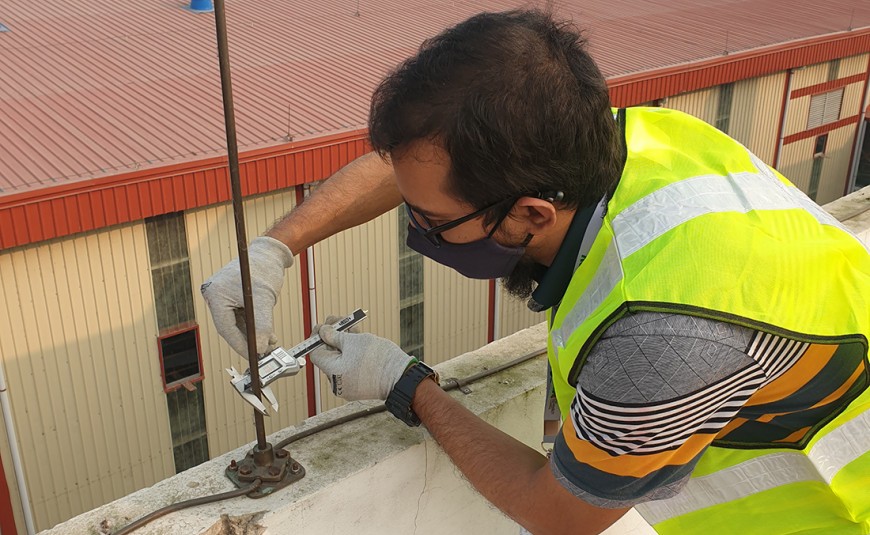 Status Inspections Programme
31 May 2022
This section represents the total number of inspections the RSC has conducted. The RSC inspection programme consists of Structural, Electrical, Fire & Boiler safety inspections. The RSC carried out 6,853 inspections among the total 52,669 inspections till 31 May 2022.
RSC engineers conducted 550 initial inspections during RSC period among total 6,951 initial inspections.
RSC engineers conducted 6,303 follow-up and other safety inspections during RSC period among total 45,718 follow-up and other safety inspections.
Following the initial inspections, the factory and the Brands are tasked with developing a Corrective Action Plan (CAP), which details timebound remedial actions (based on the severity of the findings) for completion. Follow-up inspections are conducted to monitor the remediation and verify that corrective actions have been completed correctly. Each factory is inspected approximately once every four months.
1,678 inspected RSC covered factories, among which,  
During RSC period (since 1 June 2020 up to 31 May 2022)
Initial inspections: 547

Follow-up inspections: 3,774 (33% structural inspections, 38% electrical inspections, 29% fire inspections)
Total initial and follow-up inspections (since 2013 up to 28 February 2022)
Initial inspections: 5,034

Follow-up inspections: 34,081 (22% structural inspections, 39% electrical inspections, 38% fire inspections)
Special and Verification inspections
In addition to regular follow-up inspections, RSC engineers also conduct special and verification inspections, including the following:
-> Testing & commissioning verification inspections (T&CVIs) to verify that the installation of the fire detection and protection systems has been completed, as indicated by factories in their CAP. During this inspection, the engineers utilise specific guide sheets to ensure that all components of the system are functioning adequately. In an effort to increase the number of factories that 'pass' the T&CVI – meaning that the fire systems are found to be adequately installed to standard and fully functional, the Accord introduced in May 2019 Pre-T&CVI on-site documentation and equipment reviews at factories. The goal of such a Pre-T&CVI on-site review is for the engineers to determine whether the factory is ready for a full functional T&CVI.
-> Negative suction noncompliance related inspections. T&CVIs conducted in early 2018 revealed that approximately a third of covered factories had installed the pump of the fire protection/hydrant/ sprinkler systems using negative suction, which is non-compliant with the RSC inspection standard (NFPA). RSC engineers have since conducted visits at the covered factories to identify solutions to resolve the negative suction situation, such as installing a vertical turbine fire pump or changing the position of the water reservoir vis a vis the fire pump.
-> Boiler safety inspections. Between 2018-2020 the Accord ran a Pilot Boiler Safety Programme at Accord covered (now RSC covered) factories. Initial boiler safety inspections conducted at 20 covered factories revealed significant boiler safety hazards, including non-compliant or missing boiler components/parts and a lack of proper certification. The boiler safety findings have been included in the factories' CAPs. Boiler safety is being integrated in the RSC's inspection and remediation programme, which means that all covered factories will receive boiler safety inspections.
| | | | |
| --- | --- | --- | --- |
|   Special and Verification Inspections | Accord period | RSC period | Total |
|   Boiler Pilot | 0 | 2 | 2 |
|   Escalation | 137 | 112 | 249 |
|   Factory Remediation Fund | 0 | 25 | 25 |
|   Immediate Concern | 19 | 7 | 26 |
|   Negative Suction | 297 | | 297 |
|   Post Incident | 5 | 89 | 94 |
|   Safety Complaint | 49 | 52 | 101 |
|   SCWT Finding | 1 | 0 | 1 |
|   Settlements | 0 | 68 | 68 |
|   Specific Issue | 19 | 53 | 72 |
|   Closure | 273 | 157 | 430 |
|   DEA | 120 | 517 | 637 |
|   Pre-T&CVI Review | 354 | 690 | 1044 |
|   T&CVI | 339 | 479 | 818 |
|   T&CVI Final Verification | 2 | 165 | 167 |
The safety remediation is no longer monitored at factories in the following cases:
At supplier factories that have been made ineligible for business with Accord company signatories (RSC participating Brands) as a result of failure to participate in the RSC prescribed Safety Programme.  

At supplier factories that are no longer covered under the RSC programme and have been transferred to the Government of Bangladesh.
The engineering, training and complaints handling teams often work together to ensure that factory owners complete the remediation and that newly found safety hazards are fixed under the supervision of the factory Safety Committee.
The RSC is committed to inspecting each covered factory after certain intervals to make sure the remediations are on track and immediate life-threatening issues are remediated by the factories. But during the COVID 19 pandemic (2020 & 2021), the RSC couldn't continue its field operations at a regular pace. This caused RSC to improvise and come up with the inspection priority categorisation. Inspection priority categorisation aimed to make sure that all the covered factory gets the RSC inspection fairly & focus on the cases that need the RSC's most attention. With time the RSC inspection process has been constrained by the COVID-19 outbreak and strictly enforced lockdown across the country in recent months, many factories and associated Brands are keen to receive inspections to verify the remediated CAP items.
That is why on 31 August 2021 the RSC Executive Committee approved 3 new inspection prioritisation categories based on which the RSC is scheduling inspection since 5 September 2021. Based on the above, the Inspection Priority Category Table is as below:
Revised Inspection Priority Category Table

Category 1

Inspections related to Industrial Accidents and Safety Concerns

Category 2A

Potential 100% Initial CAP completed: Factories ready for recognition: 100% initial CAP pending verification, FADS/SUPS already corrected or ready for full T&CVI/Final verification and Structural remediation completed or ready for retrofitting verification

Category 2B

(Potential 100% CAP completed factories) 100% Initial verified & completed; all new findings are in Pending Verification

Category 3A

Factories ready for pre-T&CVI

Category 3B

Factories ready for full T&CVI, but not at 100% PV

Category 4

Factories with key remediation outstanding/major delay: In Stage 1 with PV items, in Stage 2 where all NC timelines have passed, Special Escalation Inspections, and factories with Immediate issues outstanding (IP) or Safe Egress issues outstanding (IP)

Category 5

Initial inspections

Category 6

Structural priority factories: waiting for DEA verification, waiting for retrofitting verification, structural evacuation cases, or Structural items PV and Document status is Accepted

Category 7

Other special inspections: FRF, OSH complaints/verification/Boiler inspection

Category 8

Factories in linked buildings, compounds, or extensions to other priority factories

Category 9

(Follow-Up Inspection) Factories that are waiting for RSC inspection for more than 365 days (RSC period) from their last inspection

Category 10

(Business order issue) Factories that have been reported to the RSC as those brands are not placing business orders due to the unavailability of a recent RSC inspection
Inspections are scheduled at the covered factories meeting these criteria only if the factories have provided adequate documentary and pictorial evidence that adequate safety measures to contain the spread of the COVID-19 virus are in place and maintained at the factory.
Recent Posts